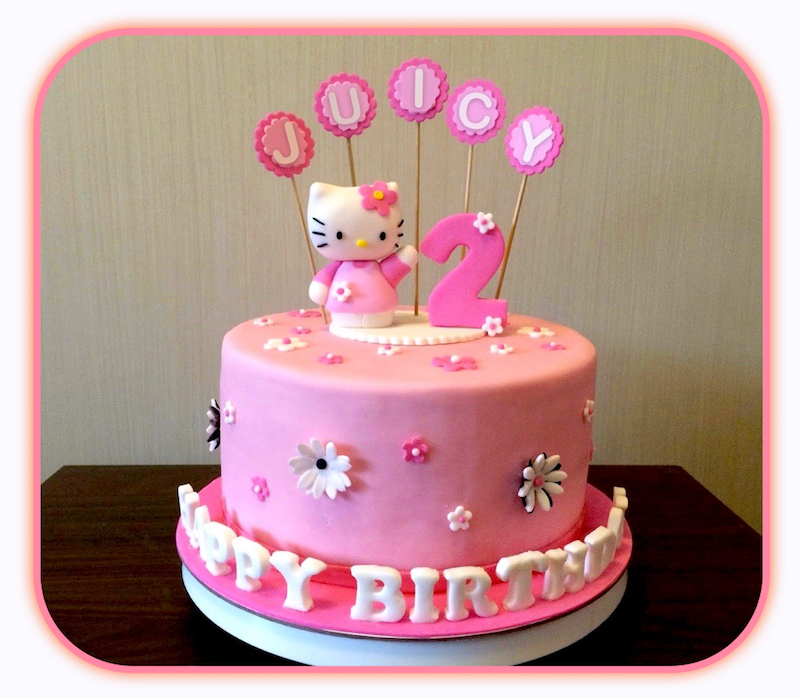 Please join us, dear readers, in celebrating the second anniversary of the founding of our site. Have a piece of birthday cake, read the messages below from Naughty Mommy, JetBoy, and Cheryl Taggert, and also congratulate yourself on being a valuable part of something truly wonderful and unique.
Cheryl's message:
Oh, my! What a fast two years it has been. Once again, the three of us who started this little endeavor have decided to post a blog entry to celebrate the anniversary of the Juicy Secrets site going LIVE for our readers, this one the site's second birthday. However, this time, there's more to celebrate!
As of today, we posted the 1,000th entry at the JS site! That is a LOT of stories, chapters, and submissions by Anonymous for your enjoyment. That number also indicates how busy we all have been here. This site takes a lot of work, and I believe that hard work shows in the quality of material we feature here. If the average number of words per entry is 2,500 words, that means there are around 2.5 MILLION words dedicated to erotic stories for your reading pleasure!
We've not done this on our own, either. Our accomplishment is shared by twenty-one other authors whose work now appears on the Guest Authors page, as well as the forty-six authors represented on the Best of Leslita tab of the Juicy Secrets website. A few of those Leslita authors are also contributors listed on the Guest Authors page, of course, but I'm sure you get the idea. There are MANY excellent authors represented here. And those numbers are as of today's date as I write this, April 26, 2017. These numbers could increase by the posting date for this blog entry.
That is no small feat in itself. There are many here who would attest that there are many stories we turn down for various reasons. Some are well-written but stray too far from the lesbian themes we choose to feature. Others could be well-written if the authors chose to complete a re-write and re-submit the work, and still others are just not up to the level of quality we seek here for our erotic literature.
As many of you are painfully aware, many authors found on the Net can be, well, rather lacking in talent. Some stories out there are so bad they can make readers laugh. Others are so brief that about the only thing that happens is a character reaches an orgasm — probably about the same time the piece's author did. I call these stories "wankers," an apt name if you ask me.
Fortunately, the work of the vast majority of authors who submit work to us does not fall into that last category. In fact, I don't believe we have received a "wanker" since the early months of our website's existence. I believe people recognize the quality of the stories we feature here and choose not to submit something unless they feel it is worth our time to read. Sometimes it isn't quite there, but lately the writing we have received is extremely good. For one thing, we keep getting submissions from many of the authors whose work we have already posted. And the first submissions we receive now are considerably better than the first submissions we were getting early in the life of Juicy Secrets.
I recently emailed my partners here and "complained" that I no longer had enough time to read every story and chapter we post here. I will read the first chapter — or at least most of it — when it is submitted for consideration; however, I am woefully behind on reading subsequent chapters. That is because there is just so much that is coming in now that we are posting, and subsequent chapters roll in regularly!
As of this writing, there are 23 drafts either being worked on by the site owners to prepare for publication on the website or simply waiting in the wings for a publication date. Furthermore, there are 7,348 comments from readers and the three owners. By the time this blog posts, those comments will be above 7,400, and the draft numbers will probably remain about the same, meaning we will have posted as many as we receive between now and then.
I am so happy my partners contacted me and asked if I wanted to go in with them on this venture. It is a labor of love for all three of us, and I am honored to be a part of it.
So, here's to you, faithful readers! Thank you for an amazing two years. We hope you are around for many more!
JetBoy's message:
When Naughty Mommy first reached out to me in early 2015, asking if I thought it would be a good idea to start her own story website featuring lesbian erotica, my response was immediate: Yes, you totally should, and can I be a part of it? Cheryl responded in much the same way, and we were off to the races. The starter's pistol is fired; we're off and running!
At the time, we had no idea how our little venture would fare. Would we be able to get the site established without getting shut down by the censors and moral arbiters of the internet? Could we negotiate the many technical ins and outs of setting up and running a website in the first place, considering that among our eager trio, only Naughty Mommy had any real computer know-how? Were there enough potential readers out there to give a damn about what we were striving to create?
Then, once Juicy Secrets was up and functioning, we were confronted by another crucial question: would there be other writers out there who would be interested in offering us quality stories of their own… or authors we loved who might be coaxed out of retirement to write once more?
Two years and a thousand site entries later, you can see for yourself how those questions were answered… and how deliriously happy we are with the results.
My partners and I have amassed a veritable library of sapphic fiction — great stories old and new. We've archived many quality works from the past (and will continue to unearth more). We've encouraged writers who had laid down their pens to take them up again. Best of all, our humble site has attracted an impressive roster of newer authors… and 2017 has seen what once was a mere trickle of submitted stories build into a steady stream, one that sometimes feels like a flash flood. Honestly, we're busier with Juicy Secrets than ever!
It's a lot of work, maintaining a site like this so that it consistently meets the high standards we set from Day One… but it's a task done out of love for lesbian erotica, pride taken in making our humble corner of the internet the very best it can be, but mostly our desire to please you — to quicken your heartbeat, get your juices flowing and, most importantly, bring you orgasms of wall-shaking intensity.
All honor to my beautiful and talented partners, Naughty Mommy and Cheryl; to the dozens of fine authors whose works grace our site; and to you, our readers. Your ideas, your suggestions, your energy, your affection and your wonderful selves are the fuel that keeps Juicy Secrets chugging along. May the Great Kahuna rain blessings upon you all.
Naughty Mommy's message:
Well, another year has flown by — but as people of a certain age like to say, we're not getting older, we're getting better! I certainly hope that's true of Juicy Secrets.
Perhaps we should look back one year and see how much things have changed since our site's first birthday. As of May 4, 2016, we had published a total of 132 different stories from 47 separate authors. Pretty impressive, right? Well, I'm proud to say that we now have over 200 different sexy stories here — 201, to be exact — from 71 authors! That's a huge and expanding library of kinky lesbian erotica for you to come here and enjoy reading.
What's been most exciting to me is the growth in our roster of Guest Authors. One year ago we still had only seven of them, to go along with the three of us, your site owners. That meant you were seeing new stories and chapters from ten different writers; very good, to be sure, but nowhere near as good as it could be. Because in the past twelve months, we have welcomed another fourteen excellent writers of boundary-pushing erotica who are now publishing their stories on our site. And, of course, as Cheryl mentioned, these are not just your average hacks, churning out predictable, substandard porn. We are very careful to accept only the highest quality of writing.
I think that's quite evident if you take a look at some of the truly remarkable multi-chapter entries we have going on right now — like "A Young Desert Rose" by Sunnybunny, "My Family, Friends, and Sex" by Purple Les, "How My Niece Juli Came To Be My Vixen" from Openmindedwoman, "A Girl Named Charlie" by Amanda Lynn, "Bo and Me" by Unfastened Belts, and the latest masterpiece from Girl Lover, "Ultimate Surrender." All of these are stories you can really sink your teeth into, with intriguing plots, compelling characters, realistic situations, and, oh yes, extremely hot sex. Great, great stuff.
So, are people actually reading all this great great stuff? Indeed, I'm pleased to say that they are, and in increasing numbers too. As the chart below shows (from Google Analytics), we've been seeing a strong and steady growth of visitors to the site. You are not alone in enjoying this very special niche-brand of lesbian erotica — there are plenty of us out there!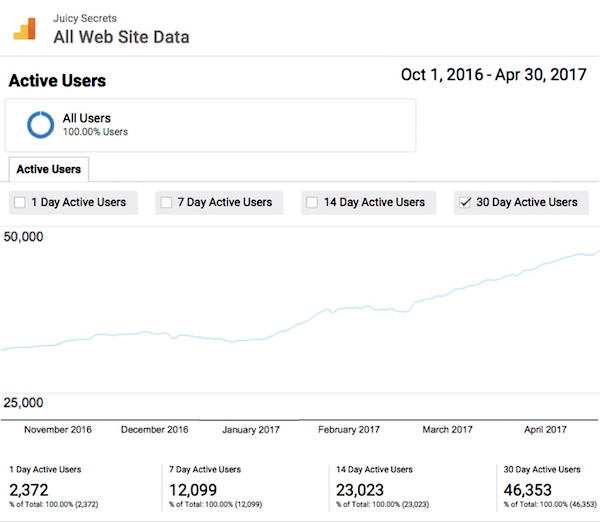 What will the next year bring? It's hard to say for sure, but my guess is that Juicy Secrets will publish a whole lot of terrific stories and chapters from even more wonderful authors, and that our beloved readers will enjoy many more satisfying orgasms. As we like to say, keep coming and coming back!
? ? ?   Hugs and kisses from Naughty Mommy, JetBoy, and Cheryl   ? ? ?