by Kinkychic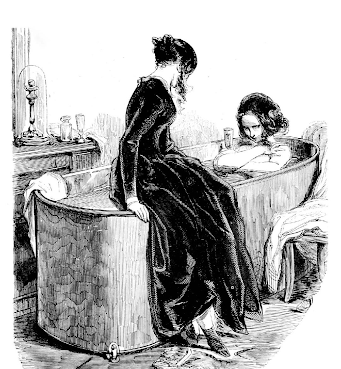 It was a few weeks later that I awoke to the sound of cannon-fire coming from the direction of the harbour. A boom like distant thunder told me the fort had shot off one of the big 36-pounders, but there were also many smaller explosions.
I jostled Mother as we ran out the door. It was barely dawn, the sun not yet above the horizon. People seemed to be running in all directions, some eager to see what was happening, others fleeing, determined to get as far away as possible.
Soldiers poured from buildings, fastening their uniforms as they ran. Many looked to be still quite drunk from the night before. It would have been comical if it had not been so frightening.
"What do we do, Mother?" I asked her.
"We should go to the old harbour wall to find out if it's safe to stay," she replied. "But wait here a minute." She ran back inside before returning, stuffing her large purse and a pistol into her bag. The purse contained all our savings.
When we climbed the steps to the top of the wall we saw two frigates and another smaller ship, all clouded in smoke from their rapid fire of cannon. The smaller ship was engaging the light Spanish galleys. The frigates were firing at the fort.
"I don't think we should be here," I said. "It's not safe. I'm frightened. May we go, please?"
"No, it's all right. They're only firing at the fort. We're safe enough here."
I was not entirely convinced, and I crouched lower. "Who are they, Mother, can you tell?"
"I believe that's the British flag, but I can't imagine why they're here. They must be mad – those ships have no chance against the fort's big guns." As if in agreement with what she had said, the fort fired two guns at the same time. The nearest frigate seemed to almost lift out of the water before very nearly rolling over. Even at this distance, I could see huge pieces of timber flying high in the air, and one of the masts beginning to fall.
We turned to look downriver toward the sound of musket-fire. Two more ships were there, and a large body of British marines were moving toward the city walls.
One of the Governor's guards appeared alongside us, looking off toward the British. "Fools," he said. "They are going straight into the swamp. We will pick them off like rabbits, if the alligators don't get them first."
Even I could see the two frigates were trying to pull out of range of the big guns. They did succeed, but slowly, and not before being hit by several more huge balls. Many sailors must have died on those ships today – and to what purpose? They had achieved nothing. Their shots had only bounced off the massive walls of the fort.
The guard had been over-hasty in his assessment, though. The marines we saw were but a diversion, and many more were now attacking the city from the other side. The sounds of battle intensified as musket and small cannon fire seemed to come from all directions.
"What do we do, Mother? Where should we go?"
"We go to the Palacio. It's built on higher ground, and has a cellar that does not flood, so it's warm and dry. Come, we must hurry."
When we reached the sanctuary, Mother hammered on the side door, but there was no answer. I saw Bill peering down from a balcony, and I waved my hand and shouted to him. A minute later the door opened, and he ushered us inside.
There were quite a few girls in the cellar, though many had elected to go to their homes. I also saw the pretty girl who always smiled at me. Perhaps I would have a chance to talk to her while we were sheltering here. I still did not know her name, and I resolved to ask Chantelle as soon as the opportunity arose.
Our madame greeted us with obvious relief, then asked, "What is happening? Do you know?"
"It is the British," Mother told her. "I knew there would be trouble when Spain agreed to give all of Louisiana back to France. I just didn't expect it so soon."
Bill said he would go and try and find out more. We bolted the doors behind him, then sat and waited.
When he returned, he told us that it was indeed the British. They were attacking on three sides, but he doubted they would succeed. The striking force was larger than the defending garrison, but the invaders were struggling with the nightmare of the swamps, and the garrison soldiers were well protected behind their walls. They were holding the British off, even though the larger part of the garrison was made up of Cuban troops, who were not generally counted among the best of fighters. He said the frigates had learned their lesson the hard way and were out of the fight.
Chantelle suggested we should go back to the salon as there did not appear to be any serious or imminent danger. Bill climbed to the roof with a spyglass and said he would give us ample warning if he saw anything that need concern us.
The wine was passed around, even some port and sherry. Mother didn't bat an eyelid when I took a glass. I had been accepted as an adult now, a professional along with the rest.
The piano player graced us with a lively tune, and soon we all were singing. I had declined when the sisters at the convent asked me to join the choir, but I often practised with them. They told me I had a good voice and could hold my notes well.
A tune I knew well began, and I sang along with the rest. Gradually, the others dropped out. I had my eyes closed and was so entranced by the music that I did not notice. Then another voice broke in, very close to me. I turned to look and saw the girl whom I'd been wanting to meet. She had come to stand beside me, her voice blending harmoniously with my own.
She held my hand as we sang the last verse. There was complete silence for a moment as everyone regarded us. Then Chantelle began to applaud, and soon they were all clapping, cheering, and whistling as only bawdy-house girls can.
The piano player began another tune. But the girl pulled my hand. "Will you come and sit with me?" she asked. "I still don't know many here yet."
My mother smiled as I went and sat with the girl. She fetched my wine over, gave me a wink, and went back to her seat.
Mother's look had clearly implied there was more to the girl's attentions than a simple desire to talk. This was new to me. I had never before been approached in such a demur fashion. I studied the girl carefully as she told me her name. "I'm Veronica," she said. "No, I'm sorry, I mean Violette. I always forget to use the Frenchie name Chantelle gave me. I know you're Francine. I hoped we would meet, but I don't see you often."
I took an instant liking to her. I loved her soft American drawl, and I had already fancied her smile.
"I don't work like the others. I only come in occasionally, when a lady wants me. There's only been four so far, and I never work evenings, only in the afternoon."
Her eyes opened wide. "You… you only go with women?"
"I have never been with a man," I said. "That's in my contract, and I won't be asked. Why – does that shock you?"
"No, I'm not shocked, just surprised," she said. "I didn't know we could do that. The lady who fetched your drink – is she your mother, or perhaps your sister? You do look much alike, though I believe you're a little prettier." She hesitated but then continued. "I think you're a lot prettier, really." Her face reddened, and she hastily looked down at her hands.
I looked at her more intently. I knew what she was attempting, the meaning behind her words. She was clearly too shy to just come right out with it.
A glance around told me that no one was paying the slightest attention to us. I picked up her glass and passed it to her. "Shall we drink to us then? Would you like that?"
"You do mean it, don't you? I do so hope we can be friends."
"Oh yes, I mean it," I said. "I have many friends here, but no one special. I think perhaps you could be that person."
"I thought that you were just a child, but you're not, are you? You're so clever, so perceptive and adult in your way. I would love to be your friend."
Bill came back into the salon. "I guess it's safe now, ladies," he said, "but it's ain't over yet, so it bein' best you all stay here."
I took Violette's hand again. "I haven't bathed today," I said. "I was awakened by the fighting. Shall we go to the baths?"
The Palacio was one of the few properties with the luxury of running hot water. I ran a bath, and I added a generous amount of salts.
Considering that we were two girls in the same profession, I was surprised at how shy we both became. This was quite different, as we weren't performing a service for pay.
Although she was older, I saw that she wouldn't lead, and I began to undress – not in the slow, teasing way that I had been taught, but still slowly enough to keep her eyes on me as I worked for her approval. I saw it there on her face. She wanted to touch me, but she held herself back.
"Are you not going to come in with me?" I asked. "I'm sure it would be so much nicer if you did."
She barely hesitated. She had come to a decision. Soon she stood naked in front of me. I saw a girl not much older than myself. The main difference was how much more developed she was than I. Her breasts were larger than mine, but still firm and high in their beauty. Her mound was clean-shaven, and her pussy had wonderfully compact lips.
She coloured slightly as I studied her. "Do you think I'm pretty?" she stammered. "Do you like me?"
I held out my hand. "Violette, you're perfect. Come."
We settled into the bath and faced each other in the warm water. Her legs were outside of mine, and my toes brushed her pussy. We glanced at each other, then we both burst out laughing. It broke the ice, and soon we were throwing handfuls of bubbles at one another. All the while, my toes pressed between her legs.
We played and tussled until suddenly our faces came close, and we sat looking into one another's eyes. Violette was breathing quite heavily, my toes having done their job. My lips inched towards hers. It was a kiss I shall remember for the rest of my life. We had both become practised experts in the art, but now we simply melted into each other, surrendering to one another in a true joining.
When at last we came up for breath, we looked at each other with a mixture of amazement and awareness that we had found something special. I wanted this girl – not simply to make love to her, but to have her as my love.
But I had no idea how to express what I felt. All I could say was, "Violette."
"Francine," was her reply.
"Shall we fuck?"
Her smile was already a part of what I loved about her. Now I saw it again. She looked so happy, and my heart surged with a longing I had not experienced before.
Water splashed over the side of the bath when she dived on me. A maelstrom of grasping hands, writhing bodies and loving kisses followed. Hands groped at breasts, pinched nipples, rubbed clits.
I was no stranger to lust, but now I wanted this girl with all of my being, to give myself to her completely. But just as powerful was the desire to to fuck her, to make her mine, to show her just what I could make her feel.
One minute, she was on top of me. Then I'd wrestle her over as I forced myself onto her. It was a frenzy of arousal. We were oblivious to the water sloshing over the floor as we wrestled.
Violette's body suddenly went tight, and even her hand had stopped moving. "Franc…" She could not even finish saying my name, and I knew she was coming. She recovered in a moment, though, as her professional pride intervened, and her fingers resumed their heavenly duties, caressing my clit even as her orgasm inflamed her. "Darling Francine!" she moaned. "Come with me!"
I was used to holding back, but now I strived for release, to be one with my lover. I pulled her to me with my free hand, and I began to shake as my mind focused on what she was doing to me. It was so nearly the perfect climax, the two of us screaming, shouting and coming in unison.
The water grew placid as we lay in each other's arms, panting furiously, as still we kissed. It may be hard to fathom just how I could suddenly feel so much love for a girl I had only just met, but this was the world we lived in – a hard world where you either took hold of what you wanted or lost it forever. My passion for this girl had blossomed in an instant, but it would last for our lifetimes.
Soon to come: Chapter Five!