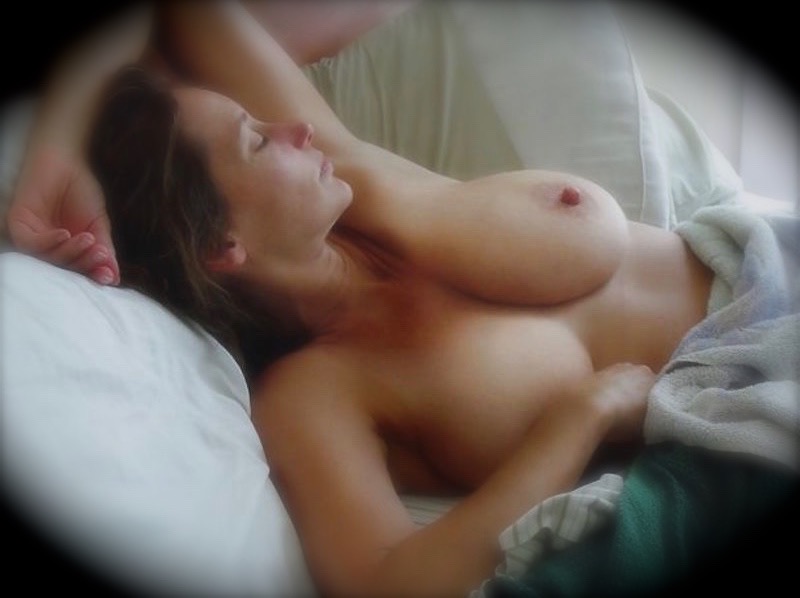 It's a Friday night, almost 11:00… I'm in bed, naked… a lamp is on, softly illuminating the room, but my eyes are closed… I'm playing with myself, rubbing my clit, teasing my hard nipples, making my pussy very, very wet… and then…
I hear a knock on the door, and a voice.
"Mom? Can I come in?"
"Sure, sweetheart, of course you can."
Quickly I pull the sheet up to cover my bare breasts as my daughter Nikki enters the room. She's nine years old and growing up fast. When she wears tight t-shirts I can see the beginnings of little breast buds. Pretty soon it will be time for her first bra. Tonight she's in a Barbie nightgown, very short, with cute yellow undies. She climbs up on the bed.
"What is it, baby? Anything wrong?" I ask as I turn on my side to face her, keeping the sheet pulled up.
"No, I mean, I just couldn't sleep."
"Why not? Having bad dreams?"
"No not really. It's just, um, you know, since we moved, I feel lonely sometimes." Her eyes glisten with tears.
"Oh, but honey, you're making new friends at school, aren't you?" I caress her cheek and pet her shoulder.
"Sort of. Yeah, I mean, they're okay, I guess. But I really miss my other friends and our old house too." She sniffles and rubs her nose. I feel so sorry for her, my beautiful, sweet, innocent daughter.
"I know. I understand. Here, why don't you get in bed with me for a little while and we'll cuddle until you get sleepy, okay?" I lift the sheet for her, realizing too late that I'd somehow forgotten about being naked. Oh, well, I reason, it doesn't matter. I'm her mom, after all.
Nikki doesn't seem to notice my nudity, or if she does, it doesn't faze her. She scoots over next to me, and I enfold her in my arms, pulling the covers over her. I hug my beautiful child, kissing her sweet-smelling hair, cooing words of love and comfort. Sliding my hand up under her short nightie, I gently rub her back. Her skin is smooth and soft and warm. She purrs, almost like a kitten, and snuggles closer to me.
My daughter's head is just beneath my chin, her arms are crossed, pulled in tight, hands resting between my breasts. Her knees are pulled up too, and I've drawn my legs up under hers. She's curled into a ball — in a fetal position, I muse, almost as if she wants to be fully back inside the security and protection of my womb.
We cuddle for several minutes, becoming more and more relaxed. It feels so nice, so warm and loving. I hope she'll soon be able to go to sleep, and think that I might too. It's so cozy and comfortable, being with my little girl this way.
I continue kissing her head, murmuring reassurance, hugging and caressing. I rub her little bottom, and I hear her whisper, "I like that, Mommy."
After a while, I notice her hands are moving. She's trying to pet me too, although the only thing she can reach from her position is my chest. I smile and kiss her hair, happy that we two can be so close. I rub her bottom, her thighs, her back. I hear her purring again.
Then I feel her fingers on my breasts, just the tips, touching ever so gently. Does she know how arousing that is? My nipples are quickly stiff again, even harder than before, throbbing now, aching to be fondled and sucked.
But wait, I scold myself, why in the world am I getting turned on? This is my own daughter, for heaven's sake, I shouldn't be getting sexually excited by this, should I?
I can't help it, though, I am aroused, very aroused. I can feel how wet my pussy is. And I try to convince myself it's normal, nothing wrong, just a natural bodily response to being caressed in a certain way.
Nikki's fingers touch my nipples, tentatively, tenderly. She seems hesitant, but also curious, perhaps wondering how I might react. When I don't say anything, she begins playing with them more boldly, stroking them, and then gives a light pinch to each nipple.
I'm on fire now, in heat, actually trembling with lust. My god, what is wrong with me? Am I a pervert or something? I know I really need to stop her at this point, send her back to her own bed, or at the very least turn her around to face the other way. But as she continues fondling my erect nipples, instead I hear myself say, "Mmm, that feels nice, baby girl, very nice."
So I give in. I let go. It feels incredibly good, and it's been so long — and after all, what can it hurt if a mother and daughter want to show some affection to each other?
My hand slips inside the back of her panties. I hear my little girl sigh contentedly as I rub her bare bottom, both cheeks, feeling their firmness, squeezing them. I realize, I know for a certainty, that I am not touching her now only with parental affection. My intent is to excite her, as she has excited me. I want to give her pleasure, to arouse her sexually. But is that possible? Can a nine-year-old child respond the way I am responding?
She seems to be. I pull my hand out of her panties and stroke her thigh, firmly, seductively. I slide my fingers slowly up the inside of her leg, higher, higher, almost to her crotch. Nikki shivers. She's breathing faster now. Her fingers pinch my nipples harder, twisting them, as if she knows instinctively how to increase my excitement.
But I want even more. I need more. I push the covers down a bit so I can look at her. Nikki's small hands are clutching my breasts. Her cheeks are flushed, hair damp with sweat, auburn bangs clinging to her forehead. She looks up at me, eyes shining, and I see something in her lovely face that I've never seen before. Could it be sexual desire? I want it to be.
Slowly, I ease my daughter onto her back. She's gazing into my eyes. I smile warmly at her, and she returns the smile. Very slowly I bend closer, bringing my lips to hers. We kiss, softly, tenderly. This could be a mother-daughter kiss — but it also could something more, something romantic, even erotic. It's right on the edge. That's where we are, teetering on the verge of incest.
I can stop now, if I want to. We're still in fairly safe territory, sort of.
But I don't stop. I definitely don't want to. As I begin pulling up her nightie, I say, "Let's take this off, all right?"
She doesn't object. Together we tug the little nightgown out from under her and over her head. Now her chest is bare.
I admire the tiny mounds of her breast buds, her puffy pink nipples. I touch my daughter there, letting my fingers tease and caress, feeling the nipples get hard. "My little girl is growing up, turning into a woman," I murmur.
Nikki is watching closely as I fondle her. When I gently pinch one of her stiff young nipples, she groans in pleasure, closing her eyes and licking her lips.
"Mommy's beautiful girl," I whisper. Then I lean down, very close to her face, nuzzling her nose, my breath mingling with hers. In an even softer whisper, I tell her, "I love you, honey."
"I love you too, Mommy," she replies. Her breathing is unsteady, ragged with excitement.
I gaze at her face, her eyes still closed. The flushed cheeks, pert nose, a few freckles, and those full, naturally red, kissable lips. She's so young, so innocent. She's still a little girl, a child I love more than anything in the world — and yet tonight she has somehow become more than that, more than just my darling daughter.
I know exactly what it is, what's changed. I want this girl as a lover. I need her. But I have to be certain she wants that as well.
"Nikki?"
Her eyes snap open. She looks up at me, questioningly. She licks her lips, leaving them slightly parted, as if tempting me. Oh my god, she is so incredibly desirable, how could anyone resist?
"Baby girl, I, um, I want to kiss you again, okay?"
"Okay."
"But, I… I want to kiss you, and I want to do more, too. I want to love you. Do you know what I mean?"
"Um… no."
As I gather my thoughts, deciding what to say, I shift even closer to her in the bed, laying one leg over hers. My breasts are on her chest, our nipples nearly kissing.
"I want to love you, Nikki. Love you, well, like a lover, you know? I want to kiss you, and… do everything with you."
She swallows. Her eyes are huge, those beautiful eyes of hers, hazel-green, flecked with gold. Long, dark lashes. She's so sexy. I want her so much. Why did I wait so long for this?
I start to say something else, but then stop. Instead, I lick my own lips, then slowly bring my mouth to hers. I kiss her again, softly and tenderly at first, but then a little more urgently. Soon I begin to use my tongue. She is startled, pulling away slightly, but I remain insistent, and a moment later she is kissing me the same way, with an open mouth.
I'm holding her face in my hands, kissing her lips, breathing hard, my tongue exploring — hers responding more tentatively. Nikki's hands are groping at my breasts again, however, clutching, squeezing, pulling at the nipples. She is a willing participant in our mother-daughter make out session.
We kiss for several minutes, her hands fondling my breasts, my tongue probing in her mouth. I'm straddling her leg now, grinding my mound against her upper thigh. My pussy is extremely wet, lubricated, sliding easily up and down on the smooth skin of my little girl's leg. It feels so good, my clit throbbing, pulsating. I could come this way if I wanted to. It wouldn't take much longer.
Finally I come up for air, pushing my sweaty hair away from my eyes. I study her adorable face as I wipe my lips. "Are you okay, honey? Do you like doing this?"
"Yeah, I do," she giggles, nodding eagerly. "I like it a lot, Mommy."
Then suddenly she pulls me to her again, opening her mouth. Nikki doesn't want to take a break. She likes making out with me.
We continue kissing, and soon another line is crossed. I take one of her hands in mine as we kiss — it seems almost unconscious, an instinctive action — I take her hand and move it down between my legs, pressing it into my crotch.
It's gooey and hot down there. Holding her hand in mine, I rub her fingers on my pussy lips, up and down, again and again, and then within the folds, coating her fingers with my moisture.
Briefly I break the kiss and whisper to my daughter, "Rub me here, okay? Just rub me a little bit."
I resume kissing her as I slide her hand up and down inside my sex, guiding her slender, slippery fingers through the furrow, showing her what I want. When her fingers touch my clit, I shudder and groan, breaking the kiss again.
"Right there, uh-huh — just rub Mommy right there, okay? Make Mommy feel good."
I'm still holding her hand in mine, but she seems to understand what I need. Her fingers caress the swollen bud. It's ecstasy. I shove my tongue into her mouth, grunting with passion, now taking my hand from hers, reaching around and grabbing her butt, pulling her body against mine as I hump her fingers in a frenzy of incestuous lust.
There's no pretense at this point, nothing the least bit motherly about what I'm doing with her. My little girl and I are having sex, and I love it!
Somewhere, though, in a corner of my mind, I wonder if I ought to slow down. I can feel that the buildup has already begun — the swirling, swelling, rising sensation that tells me an orgasm is soon to arrive — should I ease off, try to wait?
No, I can't. I can't stop. I can't hold back. I hump harder, faster, against her fingers, squealing in erotic delirium as my tongue fucks her mouth.
It's coming, almost here, almost here… I break the kiss. "Nikki — Nikki," I pant, "Mommy's gonna — Mommy's gonna — unhh— unhh — OHHH!!!"
I climax on her hand, grunting and groaning as my body spasms, the joyous hot pleasure bursting in waves from my center. "Ohh!! Ohh!! Ohhhhh my god… oh my god…"
* * *
Finally it's over. I begin to come back to reality, and I sense where I am. I have a hand beneath her, clutching Nikki's ass. Her fingers are still between my legs. I can feel a sticky mess there, my gooey cum. As I try to catch my breath, slowly I open my eyes.
In the manic excitement, I've moved up in the bed. My breasts are almost on her face. I slide down a bit, and look at her. "Are you okay, honey?"
"Yeah," she grins. "That was, um… that was fun, Mom. Like wild, but fun."
"Good, I'm glad you liked it." I give her a kiss, just a peck on the lips. Then I kiss her a second time, holding it a little longer. She sighs happily, returning the kiss.
I draw back, studying her once again, making sure I can see no hint of worry or fear or uncertainty. But there's nothing there like that. Nikki appears completely comfortable, at ease in our newly sexual relationship.
Does she even know that it's sexual, I ask myself? Well, yes, of course she has to know that. She might be only nine years old, but kids grow up fast these days. I'm sure she understands. Still, I decide to ask her about it anyway.
"Do you know what just happened? With me, I mean? What that was?"
She nods. "Yeah, I think so."
"We, um, you know, we've talked about things like this before. About sex and orgasms, and, well, that's what I just had. I had an orgasm."
"Okay," she smiles.
"Have, uh… we also talked about masturbation, honey, and I told you that it was okay to do it whenever you wanted to. So, I mean, have you ever had an orgasm yourself?"
An even bigger grin splits her face. She looks a little embarrassed, ducking her chin, but nods. "Uh-huh, I have."
I smile at my daughter, kissing her cheek, nuzzling her nose.
"I'm glad," I breathe. Then I ask, "Would you, um… would you like me to touch you, and… see if I can give you an orgasm?"
"Would you, Mommy? I'd love that!"
It's amazing. She shows no hesitation at all. I suppose that for Nikki this must seem perfectly natural, simply a way for a mom and her little girl to share their love. And she's right, I say to myself. What we're doing is natural. It's warm, and loving, and oh my god it feels so incredibly good. How could it be wrong?
I slide gently off her, lying on my side propped on an elbow next to my daughter, who is on her back. I push the covers all the way down, fully exposing her.
For a moment I let my gaze run up and down her slender, barely pubescent body. Then I ask, "Is it all right if I take off your panties?"
"Sure."
She lifts her hips as I get to my knees, tugging the cute yellow undies down and off, setting them aside. I lie beside her again.
"I love you very much, Nikki."
"I love you too, Mom."
We kiss again, but with no tongues this time. It's a tender, romantic kiss. My heart swells with feeling, with love, with affection, and with lust.
Parting my own legs slightly, I put a hand down there, sliding my fingers between the folds, coating them with my abundant juices. Then I move the hand to my daughter's crotch.
Nikki has no hair yet, no pubic hair. She does have tiny breast buds — which drive me insane with desire — but that's the only real sign of her development. Her little pussy is completely hairless.
Gently I rub her, moistened fingers gliding over the smooth, puffy labia. I bring my mouth to hers and we kiss, both using our tongues. Her hands find my breasts again, playing with the nipples. She seems to love touching me this way.
As I stroke her pussy lips, Nikki's thighs begin to part. She's making herself available to me. My fingers ease down just a bit. She spreads her legs wider, her labia separating. I'm in her slit now, touching her there, all smooth and soft and warm, and yes, slippery too. She's wet inside.
When my fingers find the opening to her vagina, Nikki gives a start. I draw back, slowing down, but she grabs my face with both hands, pulling my mouth hard against hers, pausing just long enough to hiss, "Don't stop!" before urgently kissing me.
So I don't stop. I kiss my daughter and I fondle her, exploring her virgin sex. My juicy fingertips circle the rim of her vagina. She pants with desire as we kiss. Her slim legs are fully open, as wide as she can make them. She wants this just as much as I do.
I begin to probe her sweet little hole. She's writhing under me now, humping up and down, eagerly lifting her crotch to meet my touch. I push one finger inside, up to the first knuckle, loving the perfect tender softness of my daughter's vagina. With my thumb, I find her clit. She gives another start then, and I hear a muffled squeak, but it's totally obvious that she's ready for more, almost desperate for it.
We continue to kiss, wetly, as I rub her clit with my thumb, my finger tickling inside her pussy. But will this be enough? Can I make her come this way?
Almost in answer, as if she can read my thoughts, a shudder suddenly runs through her. She breaks the kiss, and her eyes pop open. Nikki stares at me with a look of wonder.
I'm still rubbing her clit, still fucking her pussy. My beautiful little girl is trembling all over, quivering, her cheeks flushed, face shiny with sweat.
"Mommy, Mommy, I —"
And then she comes.
Continue on to Part Two