by JetBoy
Note from JetBoy: This is a very old story of mine that I never quite finished. Having stumbled upon it recently in my Dead Dog files, I saw some slight worth there, and elected to polish it up for your discriminating eyes — adding an actual ending in the process. Hope you like it.
*****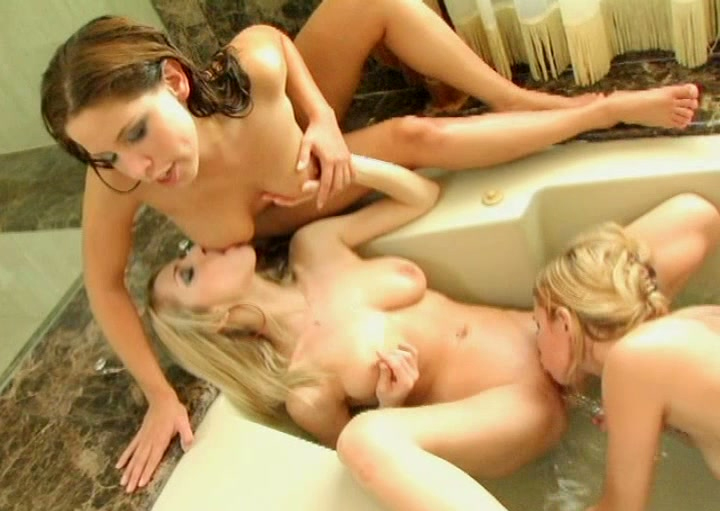 I'd always thought that my mother was so prim and proper, the kind of woman who was always poised and in control of herself… at least until my Aunt Linda showed me the deep hidden lusts that Mom had lurking within.
It happened one summer when I had plans to go to Aunt Linda's for a visit, a few months after I turned eighteen. She drove up to our town to pick me up in her sports car. We both hugged Mom, then left.
I was more excited than you can imagine about being with Aunt Linda for the summer. That's because she made love to me for the previous year, the last time I visited.
I'd never thought of myself as being into sex with other girls, but Linda convinced me that lesbian love was the greatest. We fucked each other over and over again while I was there, and she taught me everything imaginable about making love to a woman, from oral to anal. She'd even taken my virginity with her fingers.
I'd returned home eager to explore lesbian sex with other girls, but never got a chance to. We lived in a very conservative suburb where people were uptight about that kind of thing, and I was too afraid to be open about my newfound sexuality. I'm sure there were other gay girls at my school, but the risk of getting outed made me super cautious. As a result, my sex life after that time with Aunt Linda was, well, nonexistent.
It had been a long year, waiting for my next visit to Aunt Linda's place — but boy, was I ever ready! In fact, as soon as we hit the road, I made it clear to my aunt that there was no way I could keep my hands off her for the three hours it would take to get to her home. She smiled at me and said "Oh, I've already made plans to do something about that, little girl…"
We drove to the next town and stopped at a hotel and checked in. In the room I tore off my clothes and all but attacked Aunt Linda. We made love like animals, and she fingered me in my cunt and ass at the same time. I'd stuffed the corner of a pillow in my mouth when I came, else I'd have screamed loudly enough to have the police breaking the door down. Finally we lay quietly, holding one another.
Then she got up. She showered and told me to do the same, then get dressed. I had no idea what was going on but did as she said.
"Are you ready for a special surprise, honey?" she said as she got ready to go.
"Sure, Aunt Linda, what is it?" I asked her.
"It's something really incredible, if you're up for it… but you must do exactly as I say, understand? I'm going to bring another person in here — and no matter what happens, you can't let her recognize your voice."
"So, this person… it's someone I know?"
Linda nodded. "That's right. She'll be wearing a blindfold, so you don't have to hide… just be quiet. This could be the wildest sexual experience you'll ever have, if you want it. But if you don't want to get involved — and you may not — then just leave the room quietly, and go down the street to the movie theater and watch something for a couple of hours. That's all I can tell you right now. You'll have to trust me. Okay?"
"Yes, I understand."
"Good. Now, I will be out for a few minutes. Go get something to eat, then be back here in half an hour and wait for me."
I went out and got a hamburger, then came back. When I got back, there was something new in the room — long silk scarves had been carefully tied to the bed posts. I didn't know what was going to happen, but knew it was going to be pretty fucking wild.
Soon Aunt Linda's car pulled up, and she got out and went to the other side of the car and opened the door. My jaw dropped as my mother stepped out, and a feeling of terror shot through me. What in God's name was my aunt up to?
I started thinking about making a hasty escape, then froze in mid-motion as Aunt Linda took Mom in her arms and kissed her on the mouth. I gasped, then gasped again as Mom kissed her back. It was no sisterly kiss, either — I could see their tongues dancing together from fifty feet away.
I couldn't believe it — my aunt and my mother were lovers? 
Mom is tall and lovely, with slight breasts, but a really nice ass. I've always thought she was a gorgeous woman, and was delighted that I seemed to be developing a body similar to hers.
Anyway, there I was, mouth hanging slack as I watched Aunt Linda kissing her sister — my mother, for fuck's sake! — in the parking lot of the hotel. When they finally broke apart, I saw that Mom had no bra on, and her blouse was half open. They'd been playing with each other on the way there, I figured, and Mom was pretty worked up, ready for action.
I wasn't sure whether I was supposed to hide or not — but then Linda put a blindfold on Mom, and led her toward our room. I was standing in a corner, my heart going like sixty as she opened the door.
"Step inside, Carol," she said to Mom.
Mom gingerly stepped into the room. "You're sure that Teresa won't be coming back to this room tonight?"
"Don't worry," Linda murmured. "I got her a room on the other side of the hotel… and I gave her a sleeping pill so she'd get a good night's rest. She's out like a light."
Mom shook her head. "God, this is so dangerous," she whispered, "I can't believe I'm doing such a crazy thing."
"You used to be really wild, Carol — don't you remember?" Aunt Linda said. "Now it's time for you to let that part of yourself out again."
Linda led Mom to the bed, then slowly undressed her, kissing and caressing her as she removed each article of clothing. Finally Mom was naked… and she looked beautiful. My heart throbbed as I realized that I might soon be in bed with my mother and Linda, having sex with them both.
I carefully took off all my clothes, every stitch. It was a major line that I was about to step over, and it didn't faze me in the least — all I knew right then was that my mother was lovely and desirable, she was no stranger to lesbian sex, and that was enough. God, I almost had an orgasm right then at the thought of what I was about to do.
Linda lay my naked mother down on the bed and secured her wrists to the restraints, then she moved down and did the same to her ankles, which left her legs spread wide apart. My mouth watered at the sight of Mom's juicy cunt.
Linda motioned to me to stand next to her. "Now, Carol, it's time for the surprise I promised you. I have someone with me — a lover of mine, who is going to join us tonight."
"Really?" Mom said, suddenly tense. "I thought it was just going to be the two of us."
My aunt winked at me. "I don't keep any secrets from her, Carol — and I asked her if she was into joining us in bed. She was really turned on by the idea of making love to a pair of real-life sisters, so she said yes. Trust me, you'll like her."
"Jesus, Linda," Mom replied with a shaky laugh, "you're as wild as ever, aren't you?"
"How do you feel about being taken by both of us at once?" Linda murmured. "Would you like that, my sweet sister?"
"As long as you make love to me, Linda," my mother sighed. "I've missed this so terribly — being with you, the way we used to do. It's been so long. God, I was a fool to give up what we had."
"I've missed you, too," Linda cooed. "I know you didn't want to cheat on George. But now he's out of the picture, and you and I can be lovers again."
"Oh, Linda, I've waited so long for this…"
She knelt next to my mother and began kissing her — and I could see Mom's tongue in my aunt's mouth as their kiss quickly grew passionate. Linda was fondling Mom's breasts now, brushing her nipples with her fingertips. She leaned over to me and whispered in my ear, "Get between her legs and kiss her thighs, then up to her pussy… do it slowly, tease her."
I smiled and kissed Linda, then knelt before Mom, my heart throbbing… and began to nuzzle her thighs, slowly working my way up to her glistening vulva. I was nearly trembling with excitement as I moved in to take that first luscious lick.
"Oh my God," Mom moaned, once my face was buried in her thick pubes, tongue probing her cunt. "She's incredible, Linda."
"Yes, she's an animal in bed."
"Mmmm… oh yes, lick me." Mom moaned as I moved her towards her first orgasm. I ate her slowly until she was thrashing through her first climax. Linda was busy kissing and sucking Mom's nipples as she came in my face.
As Mom lay there panting while recovering from her climax, Linda gestured for me to join her at the head of the bed. Then she positioned me so I was sitting on Mom's lap, facing her with my breasts near her face.
"Here, Carol… lick your new lover's nipples," she purred, slowly drawing Mom's face to my breasts.
Mom immediately began sucking my nipples, and I cradled her head to my chest. Linda was watching, fingering her own pussy as she lay next to us.
My cunt was rubbing against Mom's tummy as she pleasured my breasts, and it felt so good that I suddenly came against her. She only sucked harder, biting my nipples as she came too.
I was so turned on that I slipped down and kissed her like a lover. My own mom! She was licking her own pussy juices from my lips and chin, and I let my tongue explore her mouth. She was an incredible kisser, and it got me instantly hot, even though I'd just climaxed.
Wanting more, I straddled her head and fed her my pussy — and she started licking me right away. She found my swollen clit and began to lightly nibble it, making me cry out loud. After a couple minutes of that, I sprayed her face with another orgasm. I kissed Mom once more, this time licking the taste of my cunt from her lips, then staggered over to a nearby chair and sat.
Linda reached for her strap-on and handed it to me. My heart raced in anticipation as I put it on. Was I really going to fuck Mom? I sure as hell wanted to!
"Now, Carol," Linda softly said, "I'm going to untie you… but the blindfold stays on, understand?"
"Yes, Linda."
"Good," she said, removing the restraints. She bent down to kiss Mom's breasts, in a way that had her own generous tits hanging in my mother's face. Mom's tongue emerged to lick at Linda's swollen nipple… and then the two sisters were eagerly pleasuring each other's breasts.
Linda began kissing her way down Mom's body, straddling her as she went until they were in a 69 position, nuzzling each other's cunts. Then Linda burrowed between my mother's thighs to feast on her pussy, and Mom lifted her face to claim my aunt's dripping slit with her mouth.
I watched wide-eyed as my mom and my aunt went down on one another, eating cunt with a passion that left me breathless. Wow, they really were in love.
Then Linda rolled herself and my mother over so that Mom was now on top. Her eyes met mine, and I knew exactly what she wanted me to do.
I knelt behind Mom, resting the tip of my latex cock at the entrance to her wet vagina. She moaned into Aunt Linda's cunt, clearly knowing what she was in for. Well, who was I to let her down?
I pushed forward, slipping my cock into a furnace-hot, soaking-wet cunt — and began to fuck her slowly, gradually increasing my tempo with each stroke.
Suddenly Mom moaned, "Oh Jesus, fuck me hard, go deep… damn it, fuck me!"
My eyes widened. I'd never heard my mother swear before, at least nothing more than an occasional damn or hell, and now she was crying, "Oh yes, fuck me, fuck me, give me your cock. Oh yes, deeper, fuck my cunt…" She ranted on and on like that.
So I fucked Mom like a wild animal, just the way she wanted — and she came with a howl before going completely limp.
"Okay," commanded Linda, "now, Carol, you put it on and fuck your new lover." Mom did as she was told and I lay on the bed, spread out and waiting for her. Soon she was on top of me, her breasts brushing mine as she drove that dildo deep into my body. I had orgasm after orgasm while Mom rode me, kissing my mouth over and over again. During one orgasm I was moaning louder and louder and then cried out, unable to stifle my ecstasy.
With the dildo deep in me, Mom stopped and a look came over her face. "Linda, who is your friend? I want to know now."
"Okay, very well, turn around on the bed and sit at the head again and I will show you."
Mom did as she said — and Linda took off the dildo, then put her arms and legs back in the restraints, making sure they were tighter this time.
"Now dear, are you sure you want to know who we have been in bed with half the night, who you have eaten out and fucked? Are you sure?"
Mom asked, "Um… do I know her, then? Is that why you blindfolded me?"
"Yes, you do… and yes, it is." Linda said.
"Do I know her well?"
"Yes, dear, you know her well. I have been teaching her all she knows about sex. She's an incredible lover who really knows how to please a woman… and I wanted to share her with you."
As she spoke, Aunt Linda guided me between Mom's thighs once more, clearly indicating that I should begin to eat her pussy again. "Before I take off the blindfold… she wants to lick you again, Carol."
"Okay," Mom said with a nod. "She needs to be gentle, though. I'm tender down there."
Soon I was going down on Mom, and she was squirming towards another climax. Linda bent down to me to whisper, "Keep eating her… soon as she begins to come, I'm taking the blindfold off."
Mom's orgasm was getting closer… now she was humping my face. Then she began to come and Linda untied the blindfold. It came off slowly and Mom froze, her face white with horror.
"Oh my God, oh no, not my own daughter, oh God… Untie me, Linda!" she sobbed, utterly stunned by the sight of me.
Linda came over to where I stood. "What do you think of your mother, Teresa… did you enjoy fucking her?"
"God, yes," I purred. "Mom, you are so hot."
Suddenly Linda kissed me and began sucking my tits and fingering me.
"Oh no, please no," Mom said. "D-don't do this."
Linda turned to her. "Now, sis… now you are going to watch us make love."
"Oh no, please." Mom kept on saying.
For the next hour Linda and I made love every way imaginable, Mom watching all the while. After awhile, her hips were moving slowly… and I knew my mother was aroused.
"Oh, Linda," she finally moaned after a long while.
"What is it, Carol?" she said.
"Untie me."
Linda unfastened the restraints. Slowly Mom rose to her feet and padded across the room to where I stood… than all of a sudden, her naked body was pressing into mine.
She took my face in her hands and kissed me. I kissed her back — and we fell to the bed in each other's arms. Slowly we worked around to a 69 and ate each other until we came together.
Linda was stretched out next to us as we recovered, and my mother and I suddenly attacked her.
For another hour, the three of us fucked like bitches in heat. My pussy was so sensitive by the time we passed out that the slightest touch made me shiver. We fell asleep in each other's arms.
The next morning we showered and dressed and ate breakfast. We all drove to Linda's house in Biloxi. The weekend was spent for the most part naked and in bed, taking time to eat and refresh ourselves in the pool.
Since then, Mom and I have had a special relationship and slept in each other's bed whenever we felt the desire to. She and I still fuck sometimes, even though I'm older now and have a lesbian lover of my own. We'll always remember the first time we were together, and we're both grateful to Aunt Linda for making it happen.
The End