So, that's who I am.
I'm a pervert. I love to masturbate in public.
And all of this has been leading up to the most amazing experience I have ever had.
I'm a senior in college now, 21 years old, a journalism major. In a few months I'll get my degree, then next fall I'll begin working on my masters. My schedule is fairly light this final semester, only a couple of classes a week. I've done very well in my studies — I'll graduate near the top of my class, in fact, if you'll pardon the bragging.
Along the way, happily, I've also been able to continue doing what I most love to do.
None of my professors, as far as I know, has a clue that quite often I've been getting myself off during their lectures. By now I've perfected my methods. I can make myself come almost at will merely by crossing my legs and squeezing them together, repeatedly clenching my thigh muscles to stimulate my clit. This works amazingly well. I've given myself countless orgasms that way, even while seated in a crowded classroom with students on either side.
Nothing can replace the feel of my fingers on my bare sex, however. So, if possible, I'll try to slip a hand inside my clothing. It's not as easy to get away with that, of course. Usually I'm not able to do so, but if I can, I will. I finger myself until I reach climax, then nonchalantly raise my hand to my face, pretending to scratch my nose while inhaling the fragrance of my juicy cunt.
I love to masturbate during my classes, but elsewhere too: in the cafeteria while eating lunch; in a store while shopping; at the park, sitting on a bench; riding on the bus, seated next to strangers; I've even done it while riding in an elevator. As long as I'm around others, around people who have no idea what I'm really doing, but who might discover it, that idea drives me wild. I'm such a pervert.
*       *       *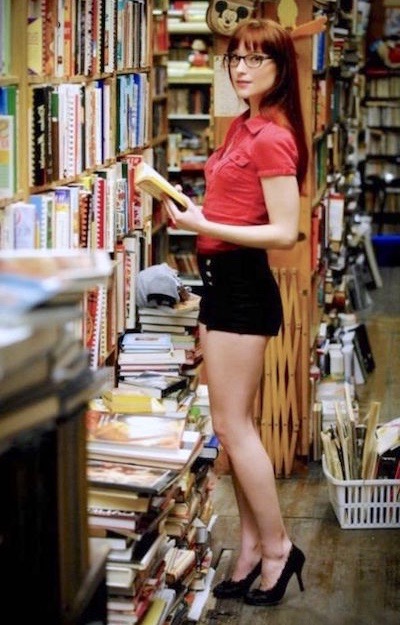 To earn some money, and because I like books, for the past year or so I've been working part-time in a used bookstore near the campus. It's sort of a quiet, out-of-the-way place, called Legacy Books.
I enjoy working at Legacy because the owner, Mr. Tinworth, trusts me and pays me pretty well. He's not around much, and doesn't seem to mind that business is usually slow. I suppose he already must have however much money he needs or wants.
As you might expect, I frequently masturbate at work, because why wouldn't I? Since the store is often empty, I'm on my own and can do whatever I choose. Naturally it's not as fun and exciting when I'm alone, though, doing it with no customers around, but if I feel the need to come, I'll do it anyway. Sometimes, to spice things up, I've stood close to the front window, taking a chance that passersby on the street will see me. That makes me so hot.
In addition to selling used books, we also purchase them at Legacy for resale, or take them on trade. When I first started there, Mr. Tinworth didn't allow me to do that. But after a time, when I'd shown some interest and aptitude, he turned the job over to me. Now I do almost all our buying.
In that capacity, I've made sure that our Erotica section is very well-stocked. We have an excellent selection of 19th century and early 20th century pornographic novels and short story collections, as well as items from more recent authors. It's one of our most popular areas of the store, accounting for nearly a third of our total transactions.
And that brings me to the amazing experience I promised to tell you about.
It was a Thursday afternoon, a typically slow day at Legacy Books, perhaps even slower than usual. Mr. Tinworth had shown up in the morning but soon left, saying he'd see me on Friday. I had no classes to attend that day, and would close the shop at 7:00. We'd had a few customers and I'd made a couple of sales, but nothing special.
Then, about 1:30, they came in — two women, one mature, one younger, together with a little girl around 8 years old. It appeared the three were related, most likely mother, daughter, and granddaughter. I was somewhat surprised to see the child, considering it was a school day. Later I found out that they were traveling, on their way to attend a relative's wedding the next day, and had stopped in our town for lunch and to do some shopping.
At any rate, I was very glad they were there. This gave me an opportunity to play with myself in an unusually provocative setting, with a young girl and two women. So naughty, and so nice!
I smiled at the group as they came in. The women nodded to me and said hello, then commenced browsing. There was no one else in the store.
The child was adorable, wearing a pink quilted jacket and a very short yellow dress that came less than halfway down her thighs. She had big round brown eyes, long eyelashes, and rosy cheeks. Her dark hair was shoulder length, curled under, with flirty bangs.
The darling girl headed straight for the children's section, located at the front of our shop, picked out several items to look at, then sat down on a small wooden chair we keep there and began to page through the books. Both women, meanwhile, had disappeared toward the rear.
I perched on my stool behind the counter, looking at the child as I squeezed my thighs together, clenching the muscles to stimulate my clit. Soon I parted my legs, sliding a hand up under my short skirt, gently stroking my pussy through my satin panties. The sales counter was tall enough that no one could see what I was doing unless they were standing very close, and the women were out of sight. I felt safe, but not too safe.
How I love to touch myself. I'm quite an expert at it, of course, since I've been doing it pretty much all my life, masturbating many times a day, knowing exactly what to do to really get myself going. As you know, however, nothing turns me on more than doing it in public, where there's a chance I might get caught. Just like this, in front of a little girl, with her mom and her grandmother not far away. So fucking hot.
Then I noticed something unusual, something surprising. While the child was examining the books, her legs had come open. And not just a little bit either, they were wide apart. She was facing toward me as she sat, and I had a clear, extremely arousing view of her white cotton undies.
Had she done this on purpose? Was the girl deliberately trying to turn me on? No, that couldn't be, could it?
Well, whether it was deliberate or not, I was turned on, very turned on. After quickly glancing around to make sure no one would be able to see, I put my other hand between my legs and pulled my own panties aside so I could touch myself directly.
I was already very wet. My fingers slid up and down inside my slit, spreading the gooey moisture around. Should I make myself come? Sure, why not? I'd done it plenty of times with people inside the shop, more times than I could count. And my clitoris was so big and hard, throbbing, just begging for it.
Gazing at the lovely child, staring at those white panties between her wide-open legs, I fondled my clit, sliding my slippery fingers over the nub, playing with myself until I was right on the edge, almost there.
The little girl raised her head. She looked into my eyes and smiled. That alone just about put me over the top — except then her gaze shifted away from me, went behind me, and her smile grew even wider.
Startled, I turned my head to discover both women standing near the counter, only a few feet away. In my aroused, frenzied, distracted state, I somehow hadn't noticed them returning from the back of the store. I quickly pulled my hands from between my legs, straightening my skirt, trying to act as if nothing had happened.
It was no use. They'd seen everything. They knew exactly what was going on.
But the amazing thing is, they didn't mind! In fact, they approved!
"Please, don't stop," the younger woman said to me. "Keep going. She likes to watch."
"Yes, she does. And so do we," added the older woman.
"What — I — ?" I didn't know what to say.
I knew I was blushing something furious, and sweating too. It was so rare for me to actually be caught masturbating, and never before had it been like this, while staring between the legs of a little girl!
"Don't stop, keep going," repeated the younger woman. "Please, we really want you to."
As she said this, both women moved across to stand behind the child. The way our store is arranged the section they were in, though near the front door, cannot be seen from outside. There's a brick wall and a shelf of children's books that hid them from view. I mention this because the next thing that happened totally shocked me.
The mature woman, probably in her mid-50s, but still slim and quite pretty, immediately pulled her long loose dress up around her waist, holding it with one hand as she slid the other inside her panties. The younger woman, who was wearing jeans, opened them and pushed her hand down inside too, rubbing herself.
"We love to watch," said the older woman. "We love watching each other, and we want to watch you, okay?"
"Um… okay…"  Who was I to say no?
I stepped out from behind the counter, facing toward them, but with the tall counter allowing only my upper body to be visible from the sidewalk. I yanked up my miniskirt, pushed my panties down around my knees, and resumed masturbating for them.
Of course, if another customer had come in, I don't know what we would have done, but fortunately no one did.
We played with ourselves, three women masturbating in a public place, watching one another — and with a child watching too!
But the little girl did more than merely observe. After a minute or so, the younger woman, who I soon found out was indeed her mother, said to the child, "Why don't you show her, okay? Let her see you."
"Okay," the girl nodded happily.
She'd been sitting in the small chair with her legs still spread wide, looking up at me and smiling. Now she briefly stood and tugged her panties down, stepping out of them, then sat down again. The girl used her fingers to open her smooth, hairless pussy lips, giving me a look inside.
Oh my god, so beautiful, so perfect, so inviting… lovely and pink and soft and… and wet… yes, wet! The child's pussy was clearly, unmistakably wet!!
That's when I came, when I saw that.
I'd wanted to hold off, trying to time it so we could all climax together, the two women and I — but this illicit, erotic view of a little girl's juicy pussy suddenly shoved me over the top. I gasped and groaned, cupping my vulva in both hands, jiggling them a little to extend the orgasm, all while praying that no one would come in and find us.
When I finally finished and was able to open my eyes, I saw that they were all three looking at me, at my hands between my legs.
"Uh-huh, uh-huh, uh-huh, uh-huh," grunted the older woman, fingers moving fast inside her panties. Then, "Ohh unhh UNHH!" she groaned, climaxing loudly.
The younger woman's jeans were down around her knees now and her panties as well. She had two fingers inside her cunt, pumping rapidly in and out, making a wet, slapping sound.
"Yes, yes, yes!" the woman cried, and then she came too. It was so hot, so incredibly hot.
But the most exciting thing of all was the little girl, the child.
Sitting in the chair with her thin legs spread wide apart, fingers ticking her clit, she kept her big brown eyes locked on mine, smiling, licking her lips, playing with herself, until — a sudden shudder, a high-pitched squeal, her cute face turning red — I saw her come.
Oh my god, this was unbelievably exciting. So exciting, in fact, that it made me come a second time.
I'd kept my fingers moving as I watched the two women bringing themselves to orgasm, and then, when the young girl and I made eye contact, I'd taken a step closer to her, pulling my panties to the side, fully exposing myself, showing the child my wet pussy, rubbing myself for her. And when she came, I came too.
I have no idea how many orgasms I had that afternoon. They seemed to just keep coming, over and over, one on top of the other. I'm pretty sure both women came more than once as well, though it's impossible to say for sure. It's all such a blur of erotic excitement, fingers flying over pussies, the cries of ecstasy, the intoxicating aroma of feminine sex…
Some time later, perhaps twenty or thirty minutes, maybe it was longer, I don't know, but at last we were spent. Gasping, panting, smiling at one another and giggling in our post-orgasmic high as we licked the goo from our fingers, we began getting ourselves back together again.
I was about to ask if they had any plans for dinner that night, hoping I might be able to spend more time with them, when the older woman said to the other, "I hate to say this, but we really need to get going. We've still got a long way."
"Yeah, I guess you're right," nodded the younger woman. Turning to me, she explained, "We're driving to San Francisco. We need to be there tomorrow for a wedding."
"It's a lesbian wedding," added the little girl with a grin.
"Yes," said the older woman. "It will be my other daughter, the younger one, and her girlfriend."
"All right, well, have fun," I told them.
"Thank you," said the mature woman. "Oh, I almost forgot. I did want to buy this. We found it in the back, in that very nice special section you have."
She placed her selection on the counter. It was a three-volume paperback set, titled The Joy of Looking.
"Good choice," I winked. "That's one of our best sellers."
I rang up the purchase, and then they were gone, waving at me through the window as they walked off down the street. And I was left to wonder… what might have happened if they had not just been passing through, but were in town for a longer visit? Or what if they lived near by?
I wondered about their home life too… what must that be like? I sat on my stool behind the counter, facing away from the window and masturbated again as I considered this, thinking about the possibilities.
Finally, just before I came, I came to a decision. From now on, I affirmed, I'm going to be a lot less cautious about playing with myself in public. Who knows what other fun experiences it could lead to?
THE END