This is a fictionalization of my first time with an older girl when I was nearly 13. I hope you like it! I'd actually come for the first time years before this event, and I've spiced it up some, but other than that, it's fairly accurate. Enjoy!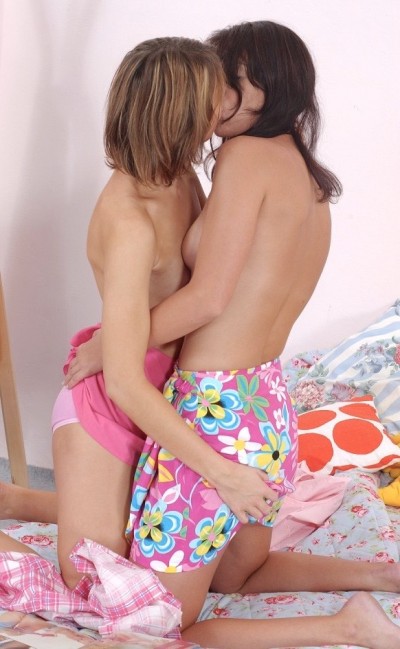 The summer before I turned 13, my parents decided to go out of town one weekend. Knowing I would complain about having a babysitter, they hired the college-age daughter (22) of the people next door to be my "companion" for the weekend. I was fine with this because I had a crush on Jackie, the girl who would be staying with me. I did know about lesbians and had figured out that I was one. Boys did not do anything for me. Girls, on the other hand, set my imagination on fire. I would be starting seventh grade in just a few weeks, so I was feeling rather "grown up" and decided that I was ready for more grown up things.
I had talked to Jackie about personal stuff before… periods, guys (I didn't want her to know I was lesbian), even birth control (which of course I didn't need). I had been rubbing my pussy for some time now, and had not had an orgasm. I really didn't even know what one was, but the girls at school talked as if I would definitely know if I ever had one. I decided I could talk to Jackie about them and see if she could 1) shed any light on what it felt like and/or 2) tell me what I was doing wrong when I masturbated. I knew she masturbated cos she had told me once that it could take the place of having sex with a guy if I felt the need for sex. (It was part of our "birth control" talk.) I had not admitted to her that I had tried masturbation before. But she had told me during our talk the most basic stuff (you rub yourself with a finger or your hand, etc.). So I felt I could ask her, because she had told me I should try it because I might like it. While I had a crush on Jackie, actually having a sexual encounter was only a vague part of the plan. I just wanted to find out how to have an orgasm.
The weekend finally arrived and she brought her overnight bag. I was anxious to get on with the girl talk, so I followed her into the guest room to help her unpack. I remember she looked a little uncomfortable when I did, so I asked her if she didn't want me to help her. My twelve-year-old mind could not grasp why she would be uncomfortable about that. She told me she had some personal things that she wasn't sure she wanted me to see. I guess she could see the hurt look as I said something like, "sure, okay" and began to leave the room because she told me I could stay as long as I didn't tell anyone about what she had brought over that was so personal. Now I was really curious. I immediately promised not to breathe a word to anyone. She told me to sit on the bed, and she would show me.
The first few things weren't anything spectacular, mostly just stuff for bed time and such like a nightie, fresh panties and bra, skin products… that kind of stuff. Finally, she looked at me and said, "You are SURE you won't tell anyone?" I nodded emphatically. Then closing the door to the room (my parents were still there), she brought a vibrator our of her bag. It was shaped like a penis with a knob at the base to turn it on. I think my jaw must have dropped all the way to the bed. Of course I had heard of them, but I had never actually seen one. She handed it to me and I rubbed my hands over it. I realized that Jackie had fucked herself with this thing, and felt my pussy getting wet with the image. I turned the knob on the end and the tiny motor sprang into life. My imagination went wild as I began to picture myself with this artificial penis.
Suddenly my mom called that she and my dad were leaving. I quickly switched the vibrator off and Jackie put it in the bedside drawer. I made a mental note of its location and left the room with Jackie behind me. We said goodbye to my parents. As soon as they left, we returned to the room to finish what little unpacking there was. I asked Jackie if I could hold the vibrator again. Smiling she took it out and handed it to me.
"Do you know how to use one?" she asked me.
Blushing, I told her that I had never seen one before but had heard about them.
"Do you remember our conversation about masturbation?"
"Yes."
"Well, that is about the best way to masturbate. It can make you have orgasm on top of orgasm."
"I've never had one." I had never dreamed this conversation would come so easily.
We were both sitting on the bed by now. "Have you tried?" she asked. I turned on the vibrator and wrapped my hand around it. I did not know exactly how it would feel on my pussy, but I knew that it would feel good. And I was eager to try it. In fact, I was getting VERY eager.
"Lots of times. But even though it feels good, I don't think I have had one before."
"Oh, you'd know." I was sitting "Indian style" on the bed, as was she. As I looked at her, I caught her looking a bit lower than I expected. I was wearing very short cutoffs and I realized she could probably see my panties. I didn't mind. It was just a thought that occurred to me.
She took the vibrator and turned it off then handed it back. "You don't want to wear out the batteries," she smiled, "at least not when it isn't doing its duty." I could feel that the vibrator had grown quite warm from the heat of the motor and the vibrations.
"I have something else," she confessed. "But you can't tell anyone about it, either."
"Of course I won't," I answered. She reached behind her and pulled a video from where it was hidden. She had removed it from her bag when I was busy examining the vibrator. There were pictures from the movie on the cover. I reached out and took it. I was suddenly aware that my pussy was on fire, hotter than it ever had been before. I recognized this as a good thing. Each movement brought major tingles to my entire pelvis. I looked more closely at the pictures. There was a man and woman fucking, a woman sucking a guy's cock, one of a man fucking a woman while she sucked another guy's cock, and more of the same. Then I saw the one of the two girls. One girl had a finger or two in the other girl's pussy and was licking her clit with the tip of her tongue. I tried not to dwell too long on this picture, and continued looking at the other pictures, managing to keep my eye on the one of the two women. Then I noticed another picture of two women. The title had something about "All Amateur" with some number. I became aware that Jackie was looking at me. I blushed, aware that she knew the effect the pictures on the video were having on me.
"Would you like to watch it?"
I nodded, not believing how great this whole thing was turning out to be. Of course I had no idea then the whole thing had been planned to seduce me. I just thought I had benefited from a series of very lucky events.
"C'mon," she said, taking the movie.. and the vibrator.. and heading for our basement, which had been set up as a den/game room. Of course she knew her way around our house. She had been here numerous times with her parents.
There was a big screen TV with VCR on one wall, and a couple of chairs and a sofa facing it. The sofa was a "hide-a-bed" for when company would visit and we needed the extra sleeping room for their kids. We didn't unfold it… yet. We sat on the sofa after popping in the video.
At first there were some 900 number ads, which were hot, but I was anxious for the real stuff. Jackie pressed the fast forward button and we watched as the girls on the screen performed sex in high speed. "I like to skip this cause they are mostly just actors doing a commercial. I like to get to the movie." I couldn't have said it better myself. Finally, the ads were over, and Jackie pushed the play button again.
As the first scene began, Jackie said, "I like amateur videos because you know the people aren't acting. When the girls are coming, they aren't faking it."
"You mean the ones with the actresses are faked?"
"Well, sometimes the girls are faking their orgasms, and sometimes not. I just know with amateur they are NEVER faking."
The first scene was of a guy and a girl. It looked as though it had been filmed in the bedroom of a trailer or something. The room was so small, the guy and girl were almost bouncing off the walls. But I was getting really hot watching it. I wasn't interested in the guy, but the girl was pretty. Not cover girl pretty, just nice. And boy, did she like to fuck! The guy ended up doing her doggy style and shooting his sperm onto the girl's ass.
I suddenly realized I was sweating…a lot. I found this to be funny since all I had done was just sit there. But it had grown definitely warm in the room. I took a second to look at Jackie. She was sweating too.
My focus returned to the screen. Next was a scene with a guy and two girls, the one I had seen a picture from on the cover. When the two girls began to touch and kiss each other, I could feel my heart pounding in my chest. I thought I was going to faint. I felt Jackie looking at me.
"Hon, you okay?"
"Yea, just that I've never watched this kind of stuff before."
"Do you want to turn it off?"
"NO!" My answer betrayed the level of my enjoyment. The girls were sucking the guy's massive cock. Kissing each other with the hard penis between their lips.
"Honey, if you want to do what comes naturally, that's okay. I certainly plan to."
What did she mean? Did she mean just masturbate or doing things like the girls on the screen were doing? My imagination ran wild, but I was certain all she meant was masturbating. I couldn't help imagining our bodies together like the two girls on the screen.
"Cheryl, do you think it would be okay if I got more comfortable. It's really hot in here."
"Yea, I know. Maybe something's wrong with the AC."
She giggled. "Honey, you could put the AC on 50 and we would still be sweating. We're horny. You're sure it's okay?"
I nodded and watched as she stood and began removing her t-shirt and shorts. Then she looked down at me and saw me staring. I returned my focus quickly to the movie. The guy was fucking one girl while she was licking the other's pussy. She noticed my embarrassment at being caught looking at her.
"It's okay, hon. I like to be looked at." Unclasping her bra, her breasts spilled into view. They were gorgeous. "Do you think I'm pretty enough to be in one of those movies?"
I just nodded in reply. I was afraid if I spoke it would be a squeak.
"Honey, wouldn't you be more comfy without all that on? I know you want to do things to yourself. Who knows? You might have your first orgasm."
I cleared my throat and found my voice. "My breasts aren't as big as yours." It was all I could think of to say.
She smiled. "Of course not, hon. You're just starting to develop and mine are fully developed. Here I'll help you." With that she reached for the bottom of my t-shirt and pulled as I raised my arms. My bra came next. "Oh, honey, they are beautiful breasts. Really they are. You're gonna be some knockout." I blushed at the compliment. "Lift," she commanded, after unbuttoning and unzipping my cutoffs. I looked down, unaware she had done that. I lifted my hips and she pulled them down. My panties were dragged over the swell of my ass cheeks and I pulled them back up. "Don't worry, hon. Mine are coming off very soon."
She sat down beside me again, a little closer this time, I noticed. The scene of the two girls and guy was obviously winding down to the end. The guy was fucking one of the girls while the other one had her head positioned over the girls ass while rubbing her own pussy. I didn't know why her face was there until the guy pulled out of the girl's pussy and shot his sperm into and around the other girl's mouth. The girl who had been fucked quickly turned around and put her mouth on the guy's cock. It occurred to me she would also be tasting her own juices.
I glanced over at Jackie. She was watching the movie and her right hand was inside her panties. I could see that it was moving around beneath the material. The sounds of two women on the TV screen pulled my attention back to the movie immediately, where a new scene had begun. Two girls were kissing. I watched for the next several minutes as the two girls undressed each other and began to explore each other's body with hands, fingers, lips, and tongues. I figured if Jackie didnt mind touching herself in front of me, I could do the same. I began to rub one breast, pinching the nipple, and my hand snuck down to edge beneath my cotton panties. It was the first time I had touched myself that day, and I was literally shocked at how wet my pussy was. The cotton material of my panties beneath my slit was soaked. As I touched my pussy, shock waves rippled throughout my body, causing Jackie to look my way. Suddenly, she stood and pulled her panties down. Her bush was neatly trimmed. Sitting back down, she took the vibrator from where it had been sitting on the end table and turned it on. Placing the fake penis on her pussy, she began to moan and squirm. I looked back at the TV and then to Jackie. She was watching me and my busy hands.
"Take them off," she moaned. I knew she meant my panties. I lifted my butt from the sofa and slid the wet panties down to my ankles and kicked them off. As I did this, I suddenly noticed the sounds of the vibrator were being altered. The buzzing would increase in volume then become muffled. I looked down at Jackie's pussy. The vibrator was plunging in and out of her pussy, causing the differences in the sound. I glanced at the TV, which Jackie had begun to watch again. The two girls were on a sofa now.. and one girl was kissing and licking the other's titties. My mouth watered. When I looked back at Jackie, she was squeezing her breast, her fingers moving toward the nipple and pinching it, and she was looking right at me.  I could see what she wanted in her eyes. She wanted my mouth on her lovely breasts.  She wanted me to do to her what the girl was doing to the other girl on the TV screen.  I was too horny to care about the consequences. I placed my naked body beside Jackie's and bent to her right breast, the nearest one. My watering mouth devoured her tit. I sucked on the nipple, my right hand working feverishly on my dripping pussy. I looked down at the vibrator plunging in and out of Jackie's cunt. Throwing caution to the wind, I decided to see what her pussy felt like. I removed my right hand from my pussy and placed it on Jackie's. Her hips, which had been rocking into the thrusts of her vibrator, began to buck wildly at my touch. I thought she was trying to make me remove my hand, so I did.
"NO!! Put it BACK!" she screamed out. I did. She continued to buck and moan like a wild colt. Her pussy was wetter than mine was and I loved the feel of the slippery flesh beneath my probing fingers. Reaching with her free hand, Jackie moved my fingers to her clit. I could feel the hard button of flesh and realized that this was what I had been missing. I wasn't paying enough attention to my clit when I masturbated. It is funny how suddenly you can see things so clearly. Holding my hand there, she bucked a few more times and began to cum. She pressed against my hand, the vibrator held deep within her sticky vagina. The muffled buzz was drowned out by Jackie's screams as her orgasm overwhelmed her. I was amazed. If this was what it was like to cum, I needed to do that, and right away.
She finally came down from the orgasm and removed the vibrator from her cum drenched pussy. Then she did something that shocked and excited me. She brought the artificial cock to her lips and began to suck it, cleaning the wetness from her pussy off of it. My hand had by now returned to my pussy. This time instead of moving all around the vulva, I concentrated on the clit. Jackie sat up slowly.
"Turn about is fair play," she said, and molded her lips to my small left tit. I could feel her tongue massaging the nipple. Then her hand joined mine. I was in ecstasy. I could feel my pussy spasm with each touch. Then she did something I didn't expect. She quickly moved her mouth from my titty to my clit. I watched in amazement and outright lust as this 22 year old neighbor whom I had a crush on licked and sucked my pussy. My hips thrust instinctively to meet her tongue and lips. That was it. My body began to shiver and shake as I seemed to explode from deep within my belly. Spasms racked my young body for the first time. My head swam and my hips bucked as the orgasm finished. It was amazing. Then she was kissing me. I could taste my juices on her lips. I decided I liked the flavor, a little salty, tangy. Then the thought occurred to me that her juices were probably mingled with mine since she had sucked on her vibrator after doing herself with it. I decided then and there that I would taste her pussy. But first, of course, we needed to rest. The video had moved on to another scene, but we didn't care. We held each other in the afterglow of our sex.
"Do you hate me?" she asked, obviously worried about what I was thinking about her activities with me, a pubescent girl 10 years younger.
"Hate you??! I LOVE YOU!!" I said and kissed her.